In The Heat Of Lisbon Presents - On Our Way To Lisbon
Event Details
Event: In The Heat Of Lisbon Presents - On Our Way To Lisbon

Venue: Liberty Hall, Dublin

Date(s): 29th April 2022

Door Open 7PM - Show starts at 7.30PM

This show is a fundraiser for the Kano Foundation.

The KANO Foundation is a group of volunteers Keeping Football Free for Kids. Our mission is to treat youngsters, regardless of background and circumstance, to a day out at Celtic Park. Since season 2010/2011 we have given a modern day 'lift over the turnstile' to over 9000 children varying from boys and girls football teams to local youth clubs and young people with special needs. We are fully self-funded and rely on the generosity of the Celtic Fans.

On Our Way to Lisbon (or The Italian Job) tells the story of how, in 1967, Glasgow Celtic became the first British team to win the European Cup with victory over the mighty Inter Milan. Two fans look back and fondly recreate how the Bhoys in Green and White beat the hardest team in the world and draped Europe in the green, white and gold.
The whole mad and magnificent campaign comes to life as the two supporters become everything from a vicious Swiss football team to the entire population of Lisbon.
Put on those scarves, dust off your passport and come with us once again as Celtic steam-roll over the best teams in Europe to become the immortal Lisbon Lions.

Reviews

'On Our Way To Lisbon' is a two man play with a cast of thousands...physical theatre at it's best. Hilarious slow motion scenes served as match highlights, bringing tears from an audience who were clearly as much engaged in the football as the drama.It was high octane stuff and marvellously executed...I felt the entirely enthusiastic audience could happily have stayed for more.
THE MAIL ON SUNDAY

On Our Way to Lisbon is a superbly written and impeccebly performed work. Abernethy and Marsden are individually brilliant and work seamlessly together....Even those with little or no interest in the subject matter will find it hard not to be caught up in the tide of excitement.
****THE SUNDAY BUSINESS POST, DUBLIN

Other Info: (A booking fee of €1.50 per ticket applies to all online bookings. No refunds or ticket exchanges.)

After the show, Glasgow Irish band, Glasnevin, are popular performers with the Celtic support. The two piece Irish band travel abroad to perform for Celtic supporters at European away matches, as well as playing gigs in Glasgow, Ireland and beyond.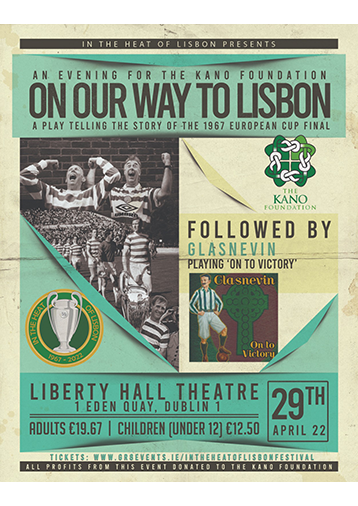 Reviews

The dialogue, at times, is hysterical and the slow-motion match highlights prove particularly effective. As the 1967 tournament progresses from the first round to the final, Denny and Tony have the audience engrossed...As an interpretation of football events On Our Way to Lisbon makes potent drama out of past glories, which is enough to recommend it.
EDINBURGH EVENING NEWS 2004

.... a sublime mix of physical theatre, conversational dialogue and hilarious impersonation - the two actors never let up the pace until the euphoria of that final whistle... well scripted and expertly performed by the two actors.
THE STAGE

Two fans look back fondly on how Glasgow Celtic became the first British team to win the European Cup. If you loved 'Stones In His Pockets' you'll love this show too.
THE IRISH POST

Actors Pat Abernethy and Dave Marsden take us through each leg of the competition, home and away, with energy, humour and bonhomie. Moments such as Denny's use of Tony's head as a radio, as he desparately tries to get a decent reception of the commentary of an away match, are theatrically inventive... Enjoy the memories!
THE SCOTSMAN